European cultural heritage. With the intensity of battles between the Slovenian Army and the Nazi German Army, there was a need for the care of wounded fighters and their safe convalescence. It was organized as a network of small hospitals with the most famous Partisan hospital Franja. This hospital was located in a hardly accessible gorge of Pasice nearby Cerkno where the ninth corpus of Slovenian Army was operating. The hospital was in function from the winter of 1943 to spring 1945 and had a mission to care for badly wounded fighters. The hospital had 11 buildings with its own hydroelectric power station and the X-ray. This location was pending for World Heritage UNESCO list.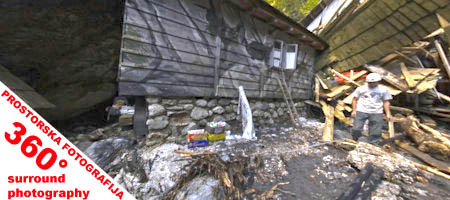 On September 18th 2007 at 13:15 hour, the extremely heavy rain infact washed away the whole museum. Consequences of the tempest are visible here ..
Old visualisation from the year 2000.